grr my internet just crashed so i have to start this post over
iwent shoppingtoday take 2
okk...so today i went shopping with my mom and i slept in till 11 (thats early for me) and i was up really late cause i was freaking out that it was snowing again..i know its cool :)
so we went to ross, thee coat factory, and target
oh and we went to the bread place (franz) and got lots of bread shit, and i had a sudden craving for oatmeal raisin cookies (i hate them) so my mom got them for me :)
@ross my mom got me this fab coat, i love it, its super duper warm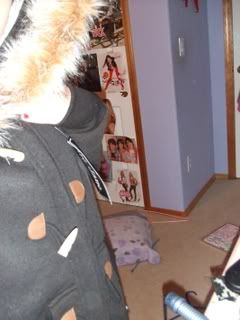 yepp. im gonna wear it alot.
and @ target my mom went all crazy over some xmas stuff that was on sale...yes its 2009 and def after xmas.
lol
and she got me this cosmetic organizer kit (thats what it said on the tag)
it so cool
i filled it as soon as i got home...lol
yeah not a lot cause im not a big make up fan
oh and i was also gonna get an eyelash curler but my mom said they were cheap and since she a beautitician she gonna go get me a good one. lol
ok..
so
cow
i meant choww ;)
xoxo
ann marie